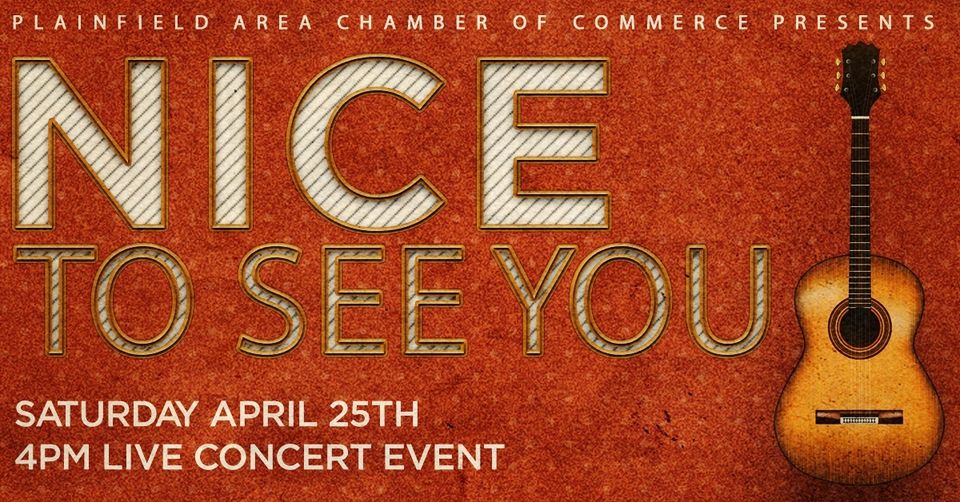 A Free online concert to unite Plainfield, IL during the COVID-19 Pandemic.
Local service organizations in the Plainfield area are joining forces for an online concert to be broadcast on Saturday, April 25th at 4:00pm at NiceToSeeYouPlainfield.com and at the Plainfield Area Chamber of Commerce Facebook page.
The hour long event, titled "Nice to See You", will feature intimate performances by four local artists and will be streaming live at NiceToSeeYouPlainfield.com and The Plainfield Area Chamber of Commerce Facebook Page.
This online concert event is a celebration of the Plainfield first responders, essential workers, local businesses and the community coming together to support one another.
100% of the proceeds raised during this event will benefit food pantries, faith-based service organizations and first responders." A Go Fund Me page for the event will be available for those that want to make free will donations.
The event is the brainchild of local resident, John Evans, who felt called to serve others during this difficult time. He said, "I wanted to show support for our Plainfield area heroes, our first responders. I knew my fellow Plainfield Lions would support this, but I also knew we could make this bigger if we united with Kiwanis Club of Plainfield, Plainfield Area Chamber of Commerce, Plainfield Rotary and Plainfield Junior Woman's
Club".
https://www.facebook.com/events/221650785604851/
The core of this event is the musical performances of local artists; AD3 Acoustic Trio, Seth Mercer, Davi & Alyne Lopes and Erika Miner.
Committee member Andy Buttimer stated, "We all witnessed the healing energy and unifying power that music recently provided in the streets of Chicago and balconies in Europe. Neighbors, who haven't seen each other recently, have the opportunity to come together and experience live music online from their driveways, backyards and living rooms."
The non-profit event will be emceed by committee members Joe LaGiglia and Tasha Marsaglia. Event support has come from fellow committee members Andy Buttimer, Tom Wyler, Warren Lindsay, Chad Holstead, Andrew Egan, Kristen Robertson and
Brandon Bernicky.
The concert will stream live on NiceToSeeYouPlainfield.com and the Plainfield Area Chamber of Commerce's Facebook page, beginning at 4:00pm on Saturday, April 25th.